"Mobile first" is a business strategy in which smartphones, tablets and task-specific apps are employees' primary tools for getting work done, according to TechTarget. However, many company leaders aren't confident about bring-your-own-device (BYOD) policies as part of their enterprise mobility program due to security threats, as Solutions Review states.
Alternatives that give organizations more control usually offer less privacy for employees. Employees might choose to use a separate device for business, but who really wants to carry two phones?
Neither scenario is ideal, but there is a way that employees can have a designated business number on their own device, while keeping their primary number for personal use.
Movius, a powerful mobile app
Movius is a cloud-based mobile communication services company that provides multiple lines on one mobile device. Its Multi-Line product makes it easier to balance corporate control and cost savings, while giving employees more control over their personal and business communications. This in turn helps companies ensure business continuity and compliance by retaining control over corporate assets. There's no need for an additional SIM card or phone, or with any change to the employee's existing mobile network.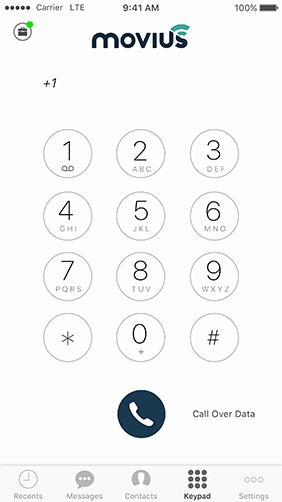 IBM Cloud-based solution
Movius delivers its Multi-Line mobility offering in VMWare environments on the IBM Cloud bare metal server infrastructure. It uses the Veeam on IBM Cloud backup and restore service.
Movius knew from the beginning it wanted to deliver its service via a public cloud so it could focus on the application rather than having to concern itself with the infrastructure part of the business.
The company evaluated a number of different cloud providers with functional and technical and requirements in mind and quickly chose IBM.
The capabilities that IBM has in terms of the physical controls, the security of the platform and the process maturity behind it were all key factors in its decision. The ability to obtain bare metal servers was also very important.
Movius needed to be able to count on a solid, stable partner. Leaders liked the global presence of IBM and its consistent set of services across locations. The trust between the customer base and IBM was also important.
The Movius platform supports more than 50 million mobile users worldwide and is the platform of choice for some of the world's largest carriers.
Benefits for businesses and employees
With the Movius app, companies can centrally manage phone numbers and settings through a secure web portal that also delivers real-time insights into mobile usage. Phone numbers can be assigned and reclaimed in seconds, if needed.
Personal mobile use and data are completely separate and invisible to the business. The Movius Multi-Line solution is not intrusive because companies only track what goes through the Movius application.
The app gives companies a different way of thinking about mobility policies. Now there's an easy solution that they can scale up or scale down and that addresses various types of mobile users.
For example, administrators can choose to enable or disable functionalities directly through the portal, giving them that flexibility and that centralized management that they never really had before. If an employee leaves, the assigned number stays within the company to ensure business continuity.
(This post appeared on IBM's website on March 8. 2018. )
Subscribe for the Latest Posts