Today, Movius announced MultiLine for Salesforce on the Salesforce App Exchange! Thank you to all our team members and the Salesforce team that helped make this integration a reality.
Since our company's founding, our mission and vision have remained unchanged: to help enterprises deliver better engagement for their clients. With today's announcement of MultiLine for Salesforce, we are doubling down on that mission and vision by bringing the power of MultiLine to the world's leading enterprise cloud marketplace.
This is a game changer for sales professionals and client managers globally, who now no longer need to manually enter business conversation information into their Salesforce platform! This process is now automated through MultiLine's integration with Salesforce, saving professionals valuable time they can further dedicate to their clients. With smarter and automated workflows, businesses can drive sales productivity, better utilization of their CRM investment, and ultimately revenue.
The announcement follows Movius' recent rebranding, growth and expansion. We have kicked off the year by expanding our client facing teams, appointing two key executives to our roster and rearchitecting the look and feel of our organization. We continue this momentum today by working with Salesforce to simplify client communications and create smarter workflows.
An Unmatched User Experience
MultiLine provides professionals with a separate business number on an employee's personal or corporate-owned device through a mobile application, powering secure and compliant client communication.
With MultiLine for Salesforce, business conversations that are facilitated through the MultiLine app are automatically captured and logged inside Salesforce, with full features of an employee's business line on any desktop browser.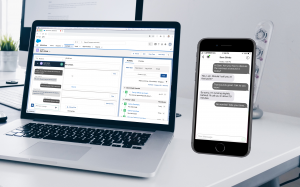 The MultiLine for Salesforce solution will help increase productivity, power communications insights and pave the way for deeper client relationships by:
Providing a record of calls and messages that is instantly created and logged automatically within the CRM, eliminating manual entry and providing users complete visibility of prospect and client interactions.
Creating the ability to call and text clients using a customer's MultiLine number directly within Salesforce using click-to-call and click-to-text.
Increasing productivity with features such as quick-reply texts, as well as the ability to add notes during or after calls to help automate daily tasks.
Supporting MultiLine's compliance features including voice and text recording, lexicon and SMS opt-in.
Thanks again to the Salesforce team for the ability to further help customers streamline their client communications and interactions! Please be on the lookout for more from Movius in 2020!
Subscribe for the Latest Posts