Before we answer how to have add compliant messaging with SMS and WhatsApp to the ways financial services communicate with clients, you may be wondering – why is it important?
Increase client interactions and build relationships with compliant messaging
Most people no longer go anywhere without their mobile phones. Often people read and reply to messages in situations when they couldn't answer a call. Whether busy, bored, in a noisy environment, in a quiet environment, messages provide an easy, fast, and discrete communication method for both you and your clients. Messaging also improves your relationship with clients, especially when you can connect with them on their preferred platform.
#1 Quick response time makes clients feel like they're your priority
The most common complaint that gets advisors fired is lack of communication and responsiveness
The more promptly you reply to your client's inquiries, the greater their satisfaction with your service will be
It's not only easier for clients to contact you with messages, it's easier for you to reply and let them know you've received their message
# 2 Messaging provides a written history
Unlike emails and calls, it's easy for both of you can at any time return to your message history
A client will be able to retrace the steps of making decisions or recall the advice that was given
An advisor can examine their client's reaction to different ideas and topics and use this to improve their advice in the future
# 3 Messaging supplements other forms of communication
The in person meeting, zoom call, or call will always be critically important forms of client communication. However, messaging can supplement these other forms of communication
Some clients open up more when they can use messaging. After the call, they may use it to iron out any questions or concerns that pop up for them after the fact
Messaging can be used to remind clients of scheduled appointments and required activities
Easily share links, documents, and directions to appointment locations
For more on using messages to connect with clients, see 7 texting strategies smart advisors use to maintain client relationships from home
Now that we know why its important to message using SMS and WhatsApp, how can a firm institute compliant SMS and WhatsApp for their teams?
Key compliance and privacy regulations to consider
Global businesses must meet the compliance and privacy regulations of the areas they operate. Below are all key regulations that impact firms' use of messaging applications.
TCPA (USA)
The primary purpose of the TCPA is to prevent consumers from receiving unwanted text messages and is enforced by the FCC. Under the TCPA, people can file lawsuits against companies who are not compliant
Compliance guidelines include:
Obtain consent:
Businesses cannot call or send messages to consumers without their consent. Companies must obtain explicit written permission from consumers before calling or sending any messages
Provide disclosure:
Once consumers opt-in to receive messages, businesses must disclose the full scope of their SMS communications and also provide a way for consumers to opt-out
FINRA (USA)
FINRA is concerned with protecting investors against unethical business practices and making sure that financial advisors work on their behalf. The SEC oversees FINRA.
Compliance guidelines include:
Keep records:
Firms must be able to prove they have completely preserved and supervised all business-related communications, particularly:
Recommendations and advice
Receipt and delivery of funds
Purchasing or selling securities
The performance of a managed account or securities recommendation
Prevent misuse:
Employees must not be able to:
Send messages anonymously
Use apps that destroy messages automatically
Block third-party supervision
Follow up:
Firms must prove they have conducted due diligence and follow up on potential violations of securities laws and FINRA rules
GDPR (EU)
The GDPR includes regulations meant to protect consumer privacy
Compliance guidelines include:
Privacy by design
Only relevant and agreed upon data should be collected
Explicit consent
You must be informed about what data is collected in a policy statement
You must be able to opt-in or out of the policy
You must be notified of changes to the policy
Access rights
You must be able to retrieve the data collected on you if requested
MIFID II (UK)
The FCA is concerned with making sure that laws protecting investors. The FCA oversees MiFID II regulations
Compliance guidelines include:
Keep Records:
Any conversation- voice call, text, messaging, email- that results in a financial transaction
Must be retained for 5 years
Must be controlled to prevent tampering (alteration or deletion)
Properly surveil and do due diligence to ensure compliance with FCA COBS 11.8 rules
Singapore MAS (CN)
The Monetary Authority of Singapore (MAS) and the SGX oversee mobile phone recording requirements.
Compliance guidelines include:
Keep Records:
Any communication- voice call, text, messaging, email- about orders or trades, regardless if they result in a transaction
Must be retained for 5 years
Must be controlled to prevent tampering (alteration or deletion)
Must be kept confidential
All communication should be retained for at least 2 months
Explicit consent:
Clients must be informed that the communication is recorded
Client Identification rule:
Firms must provide the identities of ultimate beneficial owners (UBOs) to MAS or law enforcement if requested
Critical features to look for in a compliant messaging application for financial services
Privacy by Design

Meeting compliance requirements for data security, e-discovery, and industry standards for SMS and WhatsApp without endangering employee privacy becomes complicated in the mobile environment, especially with the preference for using personal devices for work purposes (BYOD).
Get an application that keeps the business and personal data completely separate
Employees don't have to risk exposing or implicating their personal data when they opt-in to use the phone for work
Employees can easily distinguish between business and personal calls at the Caller ID screen
Employees can set up a separate voicemail for receiving business calls; letting them freely express themselves in their personal voicemail
Opt-in/Opt-out
It's critical to capture and respect client consent for SMS and WhatsApp by sending an initial message letting the client know who wants to message them, the type of messages to expect, and how to stop messages if they're not desired

Get an application that handles Opt-In and Opt-Out messages
Crafting a good Opt-In message is important for increasing Opt-In rates, craft your opt-in messages and adapt them to what's working for your business
Capture and archive the results of Opt-In and Opt-Out in the management portal where administrators can easily search and retrieve them
Identify which users in your organization require Opt-In/Opt-Out and set it up for that group; it will be automatically taken care of whenever your employee messages a new contact and require no action on their part
Message capture and archive
You need a recording solution for SMS and WhatApp that is secure, cost-effective, easy to implement and scale, and easily integrates with your compliance archive
Get an application that securely and completely captures ALL messages, regardless of connection type
Identify which users in your organization require message capturing and archive and set it up for that group; it will be automatically taken care of whenever your employee messages with their contacts and requires no action on their part
Managing recording at the organizational level also prevents employees from selectively turning recording on and off, which could lead to a breach of compliance
Get an application that monitors access and can prove the data has been unaltered by employees, administrators, and third parties as they traverse the platform per FINRA and MIFID II

Messages should be securely and easily transferred to your compliance archive
Nice-to-have features to look for in a compliant messaging application for financial services
Lexicon alerts
It's helpful to set up a dictionary of terms that will be redacted or blocked, such as profanity, abusive language, or sensitive information such as credit card numbers and social security numbers. Find an application that prevents breaches of your communication policy by identifying text and patterns of text for whether they arise from clients to employees or employees to clients.
Support for mobile and desktop
Look for a solution that grants the convenience of mobile messaging to clients, and the ergonomics of the desktop to your frontline, helping improve the user experience while increasing overall productivity.
CRM Integration
CRM systems, such as Salesforce or NextJ, provide a suite of tools that help track and store client information; being able to integrate your compliant messaging application means less manual entry and more productivity.
Quick Text Templates
Surprise and delight your users with a solution that can automate client outreach with automated texts that frequently used on a daily basis.
Example 1:

Example 2:
Enterprise Mobility Management (EMM) Integration
EMM systems such as Microsoft Intune or BlackBerry UEM provide a suite of security and application management tools that protect business data across corporate applications, such as browsers, email, calendar, and office applications; being able to deploy your compliant messaging application the same way keeps things simple for IT.
How can financial services firms use compliant messaging across various teams? 
You might be surprised the opportunities messaging will afford your wealth managers, advisors, bankers, and traders.
Wealth Managers can use compliant SMS on their personal mobile to: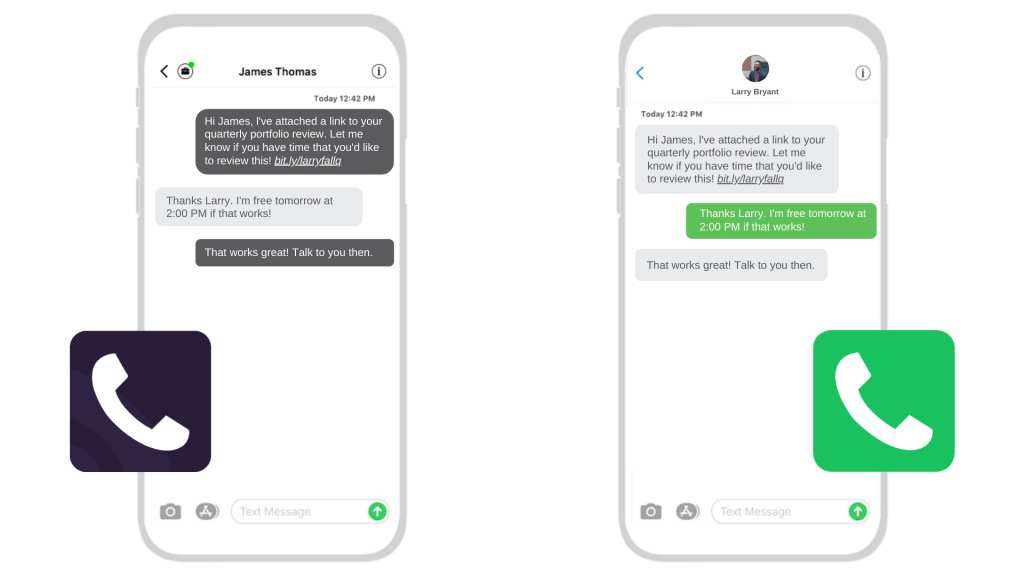 Continuously learn a client's financial priorities and feelings towards their financial situation
Check-in on clients and encourage them to stick to the financial strategy
Share portfolio reports and schedule appointments
Personal Bankers can use compliant SMS within their CRM to: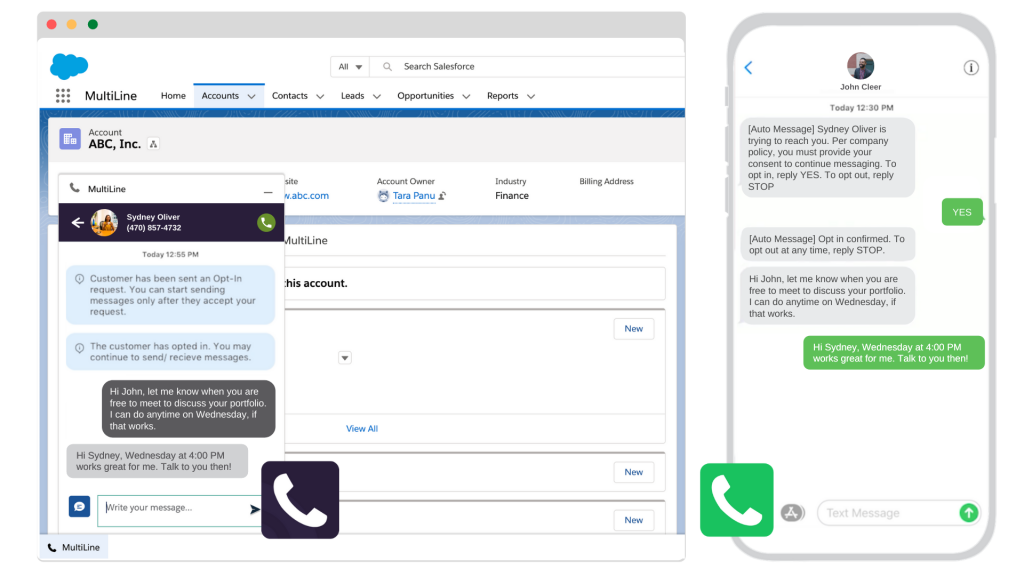 Assist clients with their accounts
Advise clients on loans and investment products
Provide important documents
Schedule appointments
Traders can use WhatsApp compliantly on their personal laptop to: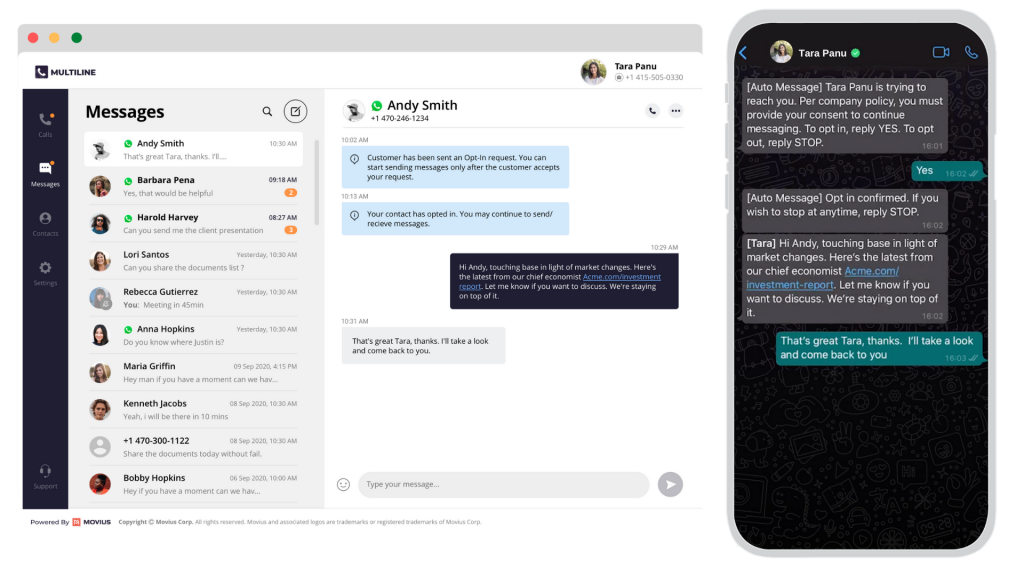 Share spreadsheets and market research with clients
Schedule presentations
Subscribe for the Latest Posts