Apple's New Dual-SIM Reinforces the Importanceof 2 Lines on 1 Smartphone:
Great News for Movius MultiLine
As always, Apple's annual announcement about its latest model iPhones was full of exciting news about the cutting-edge technology included in its "most advanced iPhones ever." And topping the list of the new buzzworthy features on the iPhone Xs and iPhone Xs Max is the addition of dual-SIM.
The hardware approach to having two separate lines on one phone has been around on a global scale for many years now. In fact, according to IDC, dual-SIM smartphones are pretty much the norm in India (98%), the Philippines (92%) and China (90%). The US is just newer to the game, with only 4% of smartphone users having a dual-SIM option on their devices.
The worldwide consensus is that people like the ease and convenience of using one phone for both personal and professional conversations.
We applaud Apple for helping consumers in particular improve their experience with their smartphones, and also for shining a spotlight on the importance of having two separate phone lines on a single device.
And it reinforces our goal with MultiLine – a secure, reliable, cloud-based, enterprise-grade solution – to ensure companies get what they need when employees use personal phones for work.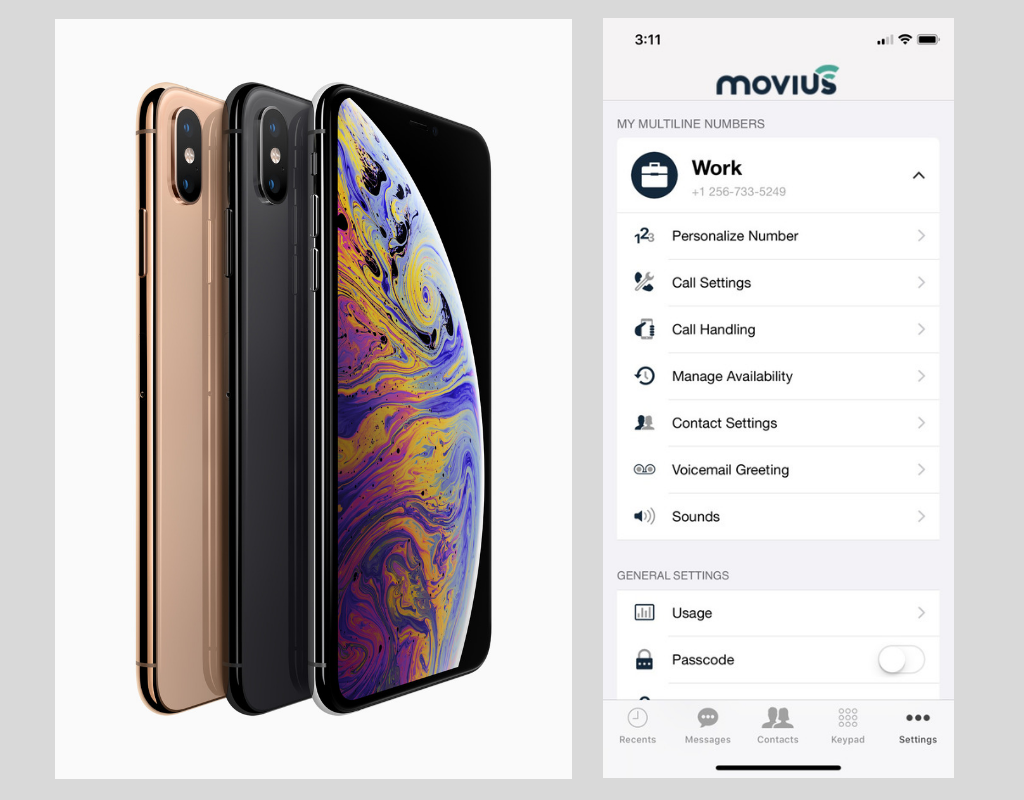 Business needs are the bottom-line
A smartphone is a tool; a secure cloud-based business line is a strategy.
Think of your phone as a tiny, hand-held office. A key part of conducting day-to-day business is having an integrated system that supports your communication workflow with built-in features such as add a call, "do not disturb," a scheduler, sequential dialing, a rich API set, integrations with business CRMs and more.
A software-driven solution like MultiLine effectively turns your personal smartphone into also having your digital business identity – available for you to use from wherever you are in the world securely. Businesses control this digital identity with integrations into Enterprise Mobility Management (EMM) and corporate workflows while meeting specific company compliance policies.
MultiLine has explicit consent ("Opt In/Opt Out" feature) , enforcement of preventing senstive information ("Redaction" feature), and privacy norms ("GDPR" type features). For those doing business in tightly regulated industries such as healthcare and financial services, these features are non-negotiable.
To give you an example: in the case of a healthcare company, when an initial SMS is received from a patient or delivered to a patient by an employee, an explicit HIPAA consent message is sent to the patient's cell phone and confirmation is requested. Communication through SMS is enabled only after a positive consent is received from the patient. This is an auditable consent and can be produced upon demand to demonstrate compliance.
While the dual-SIM smartphones are a step in the right direction to enabling business conversations on the go, it takes a software solution to ensure a seamless, integrated communications workflow that the company owns – and retains even when an employee leaves.
Convenience is everything.
As Apple's Dual-SIM iPhone Xs smartphones eloquently illustrate, people want to use their phones for multiple purposes, and without any hassles. Rather than fight this cultural shift, savvy businesses use MultiLine to make the process easy. Adding the second line is as easy as installing the app, and the software works on any iOS or Android smartphone, any carrier.
Productivity is supported by the self-contained business line and related communications environment – and it's clear to the user which call is coming into his or her business line vs. personal line.
Likewise, for the company, data management becomes a simple task from a powerful, intuitive dashboard. Details of employees' voice, text, and data usage makes it easy to analyze their mobile business usage and patterns, giving insight into their productivity. And when an employee leaves the company, it's easy to delete that user and port over their number for a seamless transition – and better customer retention. All of these streamlined processes and lightweight, cloud-based features cut expenses in infrastructure, management and support while giving business complete control and efficiency in deploying a universal, secure solution cost effectively.
Ultimately, we agree with Apple that two lines on one device is essential in today's mobile world and appreciate the vote of confidence that creating effective separation between business and personal conversations is "the future of the smartphone."
Subscribe for the Latest Posts