WhatsApp Messaging MultiLine Integration
The WhatsApp Messaging Connector allows compliant WhatsApp messaging for regulated users directly inside MultiLine.
MultiLine users read and reply to WhatsApp messages from their clients directly within the MultiLine application, alongside their business SMS and Voicemail messages.
WhatsApp users receive messages from the MultiLine user as coming from an official WhatsApp business account.
MultiLine users within a department share the same WhatsApp for Business profile and contact number, so that clients are always able to reach someone who can assist them.

Engage with clients on their preferred consumer messaging channel
Unify and bring together mobile voice and multiple messaging channels in a single, convenient user experience
Record and archive all conversations over voice, SMS, and WhatsApp within MultiLine for surveillance and compliance
Capture all communications and send them to your existing compliance archive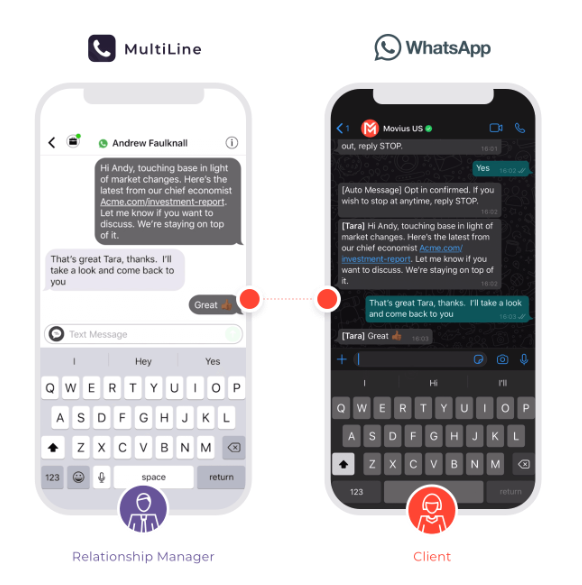 Call, SMS and WhatsApp – all within MultiLine app
Shared messages inbox contains both SMS and WhatsApp messages threads
Supports one-to-one and many-to-one messaging between MultiLine App and external WhatsApp users
Benefits
Improve client relations
Manage remote work
Unify communications
Consolidate multiple recording systems
No more switching apps
Reduce compliance risk
Respect employee privacy

Designed for
Investment Bankers
Relationship Managers
Financial Advisors
Traders
Sales
… And more!
Built for compliance
Enforces WhatsApp for Business mandatory communication policies
Compliant with MIFID II, FCA, SEC, FINRA, SOX, GDPR, HIPAA
Supports data loss prevention policies by allowing you to automatically redact or block WhatsApp messages as per business defined policy
For regulated organizations, supports capturing all WhatsApp messages with NO gaps of coverage

Capabilities
Single Number Reach

Users in your organization share the same number and official WhatsApp for Business profile.

Manage within MDM

Deploy and manage the MultiLine app with Microsoft Intune, BlackBerry Dynamics, or your preferred MDM.

Compliant Mobile and Desktop Messaging

Send WhatsApp Messages from smartphone or desktop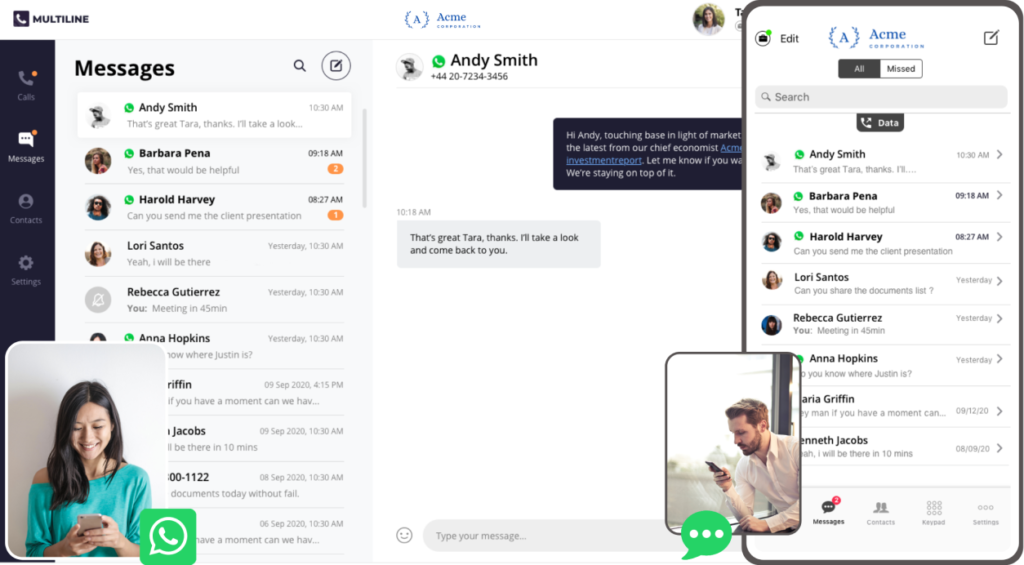 FAQ
Does MultiLine access the employee's personal WhatsApp?
No, MultiLine does not access the user's personal WhatsApp at all. MultiLine is used as an employee's official business app to securely call and message external clients which is kept completely separate from the employee's personal number and personal WhatsApp.
What does my external WhatsApp user see?
Your client will see that they're being contacted by your organization, which will have an official WhatsApp for Business profile. They'll also see your name before your messages, so that they know who specifically they are talking to.
Does my client have to download anything?
No, they will use WhatsApp as usual.
What happens if my client does not use WhatsApp?
No problem! MultiLine can detect if your client has WhatsApp or not. MultiLine users can easily switch to SMS within the same Movius MultiLine application, if the client does not have WhatsApp.