In a world where digital transformation has been accelerated, customers are quickly adapting to new mobile channels and expect the solutions that support them to do the same.
With the rising popularity of services like WhatsApp, firms run the risk of unsanctioned use from their employees as they interact with clients – clients that prefer WhatsApp as their way to connect. Not only can data become unsafe when WhatsApp – with two billion users worldwide – is used on personal devices, but the encryption also makes it difficult to monitor and supervise the activity, a necessary record-keeping oversight for regulated industries.
We're thrilled to announce an integration of WhatsApp support from within our Movius MultiLine service. The integration will help unify and capture all business voice and messaging channels through a single integrated user experience while enabling firms to effortlessly meet regulatory and surveillance needs.

As always, we are meeting our customers where they are already communicating. In this case, that means bringing WhatsApp into the MultiLine fold. If you're already a MultiLine user you will experience all the simplicity and safety to which you are accustomed – plus this new enabling of enterprises to seamlessly, securely, and compliantly communicate with their clients on their preferred mobile messaging channel with WhatsApp.
This expansion of the MultiLine service integrating messaging, voice, and compliance into enterprise workflows lets Movius users leverage existing communications preferences and increase productivity – no matter where they are and with complete confidence. Bringing these forms of communication into one place allows for complete separation of business and personal correspondence. In this way, firms ensure their business data is protected and employees' personal data remains private and untouched.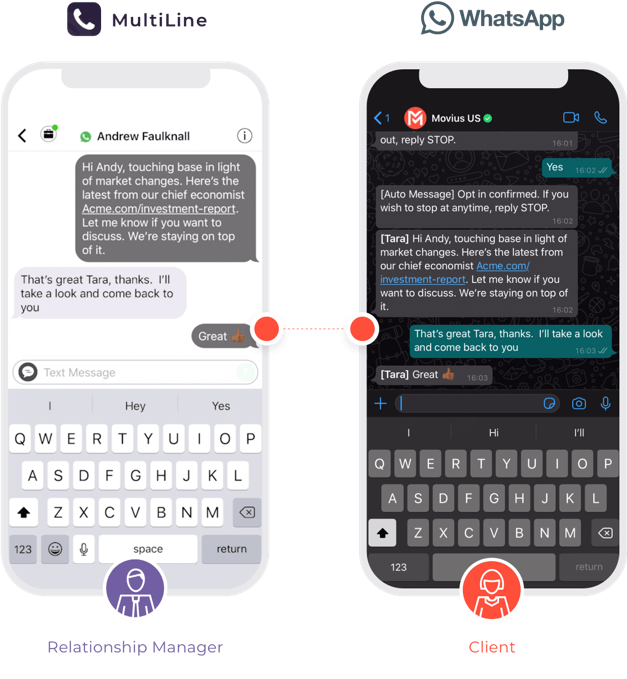 Imagine your relationship managers, bankers, and traders working remotely from a corporate or personal device can compliantly interact with external clients over voice calls, SMS – and now WhatsApp – via MultiLine's single, convenient user experience. All while recording and capturing all conversations for compliance, surveillance, and regulatory needs.
An open Beta for this integration is available now and general availability is expected in the fourth quarter, 2020. Those who qualify will find the expanded enterprise service provides unmatched productivity anywhere – and compliance everywhere – for the emerging Bring Your Own Device (BYOD), remote workforce.

During this open Beta phase integrating WhatsApp, users will experience a single, global solution that auto-archives according to regulations and surveillance protocols, putting any compliance gap concerns to rest for the enterprise.
If you're in a client-facing, regulated industry like financial services and ready to build even stronger relationships with your clients, join our webinar October 6th to learn more about the benefits and capabilities of MultiLine with WhatsApp integration.

Subscribe for the Latest Posts