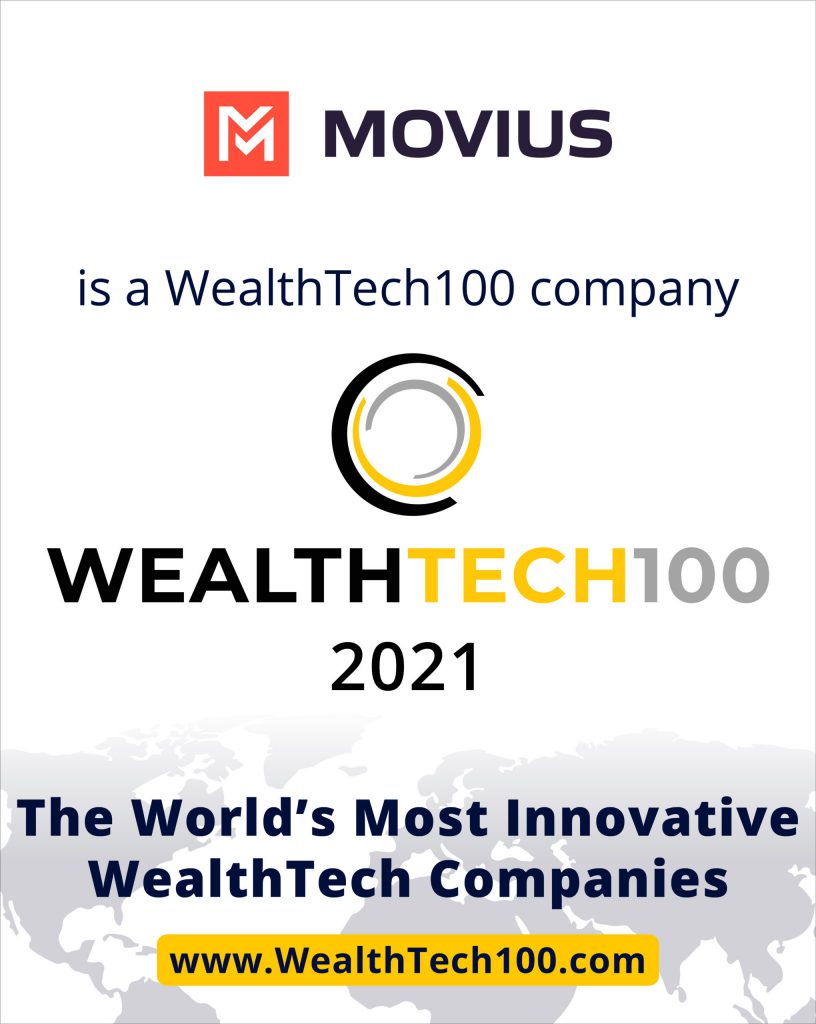 WealthTech 100 has announced the names of the world's hundred most innovative WealthTech companies that every leader in the investment industry needs to know about in 2021. Movius is proud to be included in this list with the MultiLine solution.
Between 2016 and 2020, the wealth technology industry tripled in size, from 2.8B to $9.3B. Call it digital transformation or a great leap forward or whatever you like—this industry has become massive, and just in time.
Never before have so many transactions occurred digitally as during this past year. Billions of new assets were placed under management between investors and managers who had never met in person. And just as technology supports the investing, so too must it now must support the communication. Yet between many banks and the seamless future they want lies an ominous canyon we're calling the communications compliance gap.
Wealth Tech to the communications compliance rescue
Today, 85% of clients want to text, yet only 10% of asset managers are allowed to do so. Yet if they want to please their client, they will do so—often on their personal phone. At the same time, the call-capture technologies of yesteryear, mostly built for analog, in-office world, are not keeping pace. In many instances, institutions that think they're covered don't realize that their call recording fails on WiFi. Or, it saves call recordings to a device where a wealth manager might tamper with it. Or, it captures calls but not texts.
This creates a world of massively increased digital communication and very few controls for allowing it to happen safely. We call this the communications compliance gap—it's that yawning canyon between what institutions think they have in place and what they actually have.
Regulators are back, after a brief hiatus, and they know just as well as anybody that texting or WhatsApp bans are unenforceable.
That's part of why we here at Movius are so thrilled to be included as one of Fintech Global's WealthTech 100—an annual list of the world's most innovative WealthTech companies. Movius is the only vendor that offers gap-free communications compliance to keep all those wealth managers communicating. 
We see this as validation that the problem is large, and compliance and IT teams have just as much interest as wealth managers in them being able to communicate. Client preferences are driving the industry in an increasingly digital direction, despite a return to some semblance of pre-pandemic normalcy soon. Behaviors learned curing Covid-19 are unlikely to evaporate. Just as nearly every banking customer the world over learned that mobile banking was effective, so too will clients accustomed to being able to WhatsApp their wealth manager expects to continue. 
Curious about how to help your wealth managers increase their assets under management and reduce compliance risk? Learn more about Movius. 
Curious what else is happening in WealthTech? Visit our co-featurees and see the whole list: 2021's WealthTech 100.
Download the research pdf below with the complete list and more detailed information about all featured companies. This year's edition also features an interview with Tara Panu, Movius' VP of Marketing & Customer Experience.

Subscribe for the Latest Posts