Click-to-call, click-to-text client conversations through MultiLine with automatic logging inside Salesforce CRM unlocks productivity, fosters deeper client relationships and powers communications data insights.
CUPERTINO, Calif.–(BUSINESS WIRE)–Movius, an emerging leader in cloud-based secure mobile communications software, today announced it has launched MultiLine for Salesforce on Salesforce AppExchange, empowering sales professionals, financial advisors, insurance agents, wealth and relationship managers and more to automatically capture client communications directly in Salesforce – enriching enterprise communications data by unlocking the power of MultiLine so businesses can analyze and extract insights to better serve customers and support the bottom line.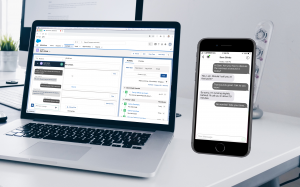 MultiLine creates efficient workflows and more productivity to help teams drive better relationships and client engagement – communicating efficiently and compliantly while maintaining full visibility into all conversation data within the CRM. Integration with key systems drives user adoption and effectively supports compliance processes. Built on the Salesforce Platform, MultiLine for Salesforce is currently available on AppExchange at https://appexchange.salesforce.com/appxListingDetail?listingId=a0N3A00000FnFrWUAV
The MultiLine Edge: Save time, serve clients, stay compliant
MultiLine powers global enterprises by providing a separate business number on an employee's existing device for secure calls and texts with optional built-in voice and text recording, without making changes to the handset, SIM or the user's existing mobile network.
With MultiLine, sales teams and advisors benefit from an unmatched user experience – business conversations that go through the MultiLine app automatically are captured and logged inside Salesforce, with full features of your business line on any desktop browser.
MultiLine is designed to integrate client communications into your key Salesforce workflows to help improve employee productivity, enhance customer experience, and boost your bottom line:
A record of all calls and messages is instantly created and logged automatically within the CRM, eliminating manual entry and providing users complete visibility of prospect and client interactions.
MultiLine users can benefit from calling and texting clients using their MultiLine number directly within Salesforce using click-to-call and click-to-text.
Productivity features like quick-reply texts and the ability to add notes during or after calls help automate daily tasks.
The integration supports MultiLine's compliance features including voice and text recording, lexicon and SMS opt-in.
Comments on the News
"We're delighted that MultiLine has been launched on AppExchange," said Amit Modi, Chief Product & Technology Officer at Movius. "As both businesses and their sales teams request bring-your-own-device (BYOD) capabilities as part of their workday, MultiLine's fully integrated, click-to-call, click-to-text experience with automatic logging captures your communications within Salesforce and unleashes the possibilities for extracting rich data insights."
"Movius' MultiLine integration is a welcome addition to AppExchange, as Movius powers digital transformation for customers by creating workflows that can drive better client engagement and insights," said Woodson Martin, GM of Salesforce AppExchange. "AppExchange is constantly evolving to enable our partners to build cutting-edge solutions to drive customer success."
About Salesforce AppExchange
Salesforce AppExchange, the world's leading enterprise cloud marketplace, empowers companies to sell, service, market and engage in entirely new ways. With more than 5,000 solutions, 7 million customer installs and 90,000 peer reviews, it is the most comprehensive source of cloud, mobile, social, IoT, analytics and artificial intelligence technologies for businesses.
Additional Resources
Salesforce, AppExchange and others are among the trademarks of salesforce.com, inc.
About Movius
Movius is the leading global provider in cloud-based secure mobile communications software, helping enterprises deliver better engagement for their clients. Enterprises around the world use the company's all-in-one mobility platform to connect with their customers in more convenient, cost-effective and compliant ways. The platform offers an easy way to extend and integrate voice, text, and messaging services into other systems, like CRM or collaboration tools.
Headquartered in Atlanta, Movius has additional locations in Silicon Valley, Calif., and Bangalore, India. Movius works with leading global partners like Sprint, BlackBerry, Telstra, and Telefónica. For more information on Movius, visit https://movius.ai.
Subscribe for the Latest Posts