We are excited to announce that today, Sprint is unveiling Sprint MultiLine – using Movius's patented technology and communications platform.
Sprint MultlIne is an enterprise-grade solution that allows businesses to add a company-owned number for voice and text on any mobile device — regardless of the carrier used by the business or the employee.
Sprint MultiLine will deliver all of the handset-agnostic benefits that Movius customers are familiar with, including:
Business Identity – Providing business owners and managers peace of mind that business relationships and company information will be protected, by ensuring that business is conducted on a company-owned mobile number.
Ease of Management – A simple-to-use web portal allows business owners and managers to manage company phone numbers and settings.
Regulatory Compliance – Providing call recording and text logging at an individual or group level to monitor and ensure compliance.
Cost Savings – Businesses can reduce or eliminate expenses on employee mobile devices, as well as service and support.
Employee Satisfaction – Allows employees to use the phone they love and the service plan that works for them, regardless of carrier, while keeping their primary number for personal use.
Separation of voice and text usage — Optimizes the reimbursement process and works on any carrier network, including cellular voice, mobile data and Wi-Fi.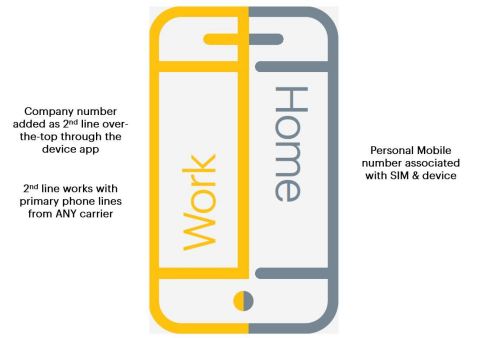 Demand for BYOD is expected to grow exponentially in the next few years. According to IDC's Enterprise Mobility Update of June 2017, 91 percent of enterprise IT decision makers indicated that their companies support BYOD programs. Of those companies, 65 percent said they have experienced opex or capex savings by implementing an employee-liable device program.
We have worked hard to build a product that serves the BYOD market and delivers the kind of capability that Sprint customers have come to expect. The new MultiLine service is available from Sprint starting today. For more information, visit https://business.sprint.com/solutions/sprint-multiline.
Press Release: http://sprint.co/2v2jSuE
Subscribe for the Latest Posts